Call Us
Email Us
Visit Us
35 Devonshire Place,
London, W1G 6JP
We are located at 35 Devonshire Place in the heart of Marylebone and the Harley Street health district. Our nearest tube stations are Baker Street, Regents Park and Great Portland Street and we are a 10-minute walk from Selfridges.
Please note that we do not have baby-changing facilities and limited access for wheelchair users. Please let us know if required and we will be happy to make special arrangements for your treatment.
Follow Us
Gift Cards
Give something personal and memorable. Dr Tatiana Clinic gift cards are available in multiples of £50 or £100 and can be redeemed against any treatment or product at the Clinic. The cards are exclusively designed and beautifully presented.
Gift cards can be used to pay in full or part for products or services available at the Dr Tatiana Clinic. Each card is valid for 12 months from date of purchase.  Gift cards are non-refundable and cannot be exchanged for cash. Dr Tatiana Clinic cannot be held responsible for any lost, stolen, expired or damaged gift cards.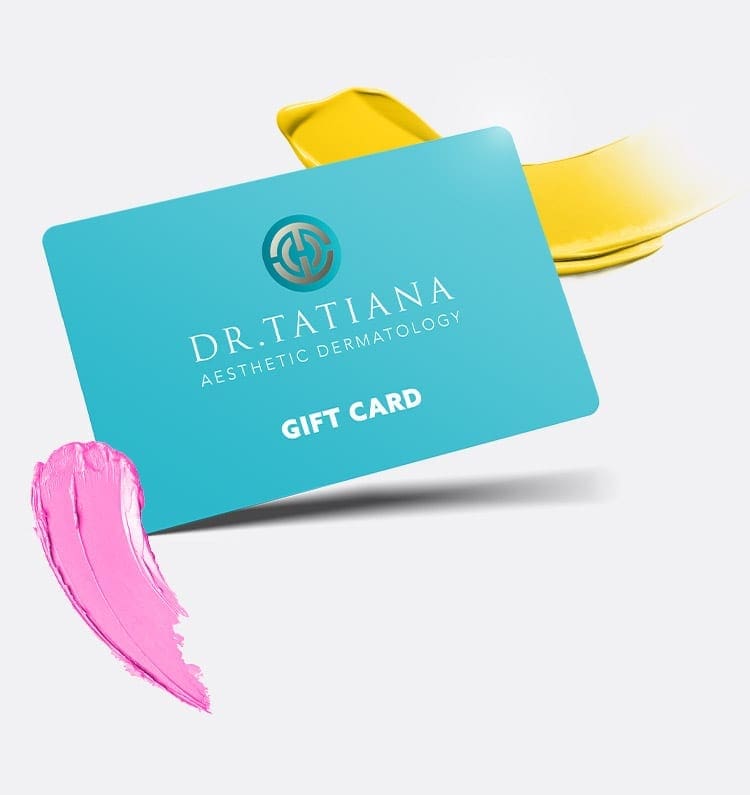 What Our Clients Say
"Dr Chandni was wonderful and truly understand my vision for my face and made it a reality. I felt incredibly at ease with her, she was absolutely lovely. I am so happy with the results and would recommend her to anyone that is looking to get aesthetic work done. The best thing about the visit was leaving feeling immediately more confident and happy with my appearance. Will definitely be seeing her again!"
Jasmine Wedlock, London, 2018
"Dr Tatiana was fantastic. I'm 55 years old and this was my first time using Plexr (soft surgery). I had my eyebags and droopy eyelids done. I'm so impressed with the results- It was absolutely painless and 1 week down line I look 15 years younger. Can't believe it! It may seem expensive however the results are brilliant and permanent. Overall you'll pay a lot less than for surgery and you'll be back to work in a few days. I would highly recommend this treatment and I would highly recommend this clinic!"
RN, London, Feb 2016
"Everything about the experience exceeded expectations. I was made to feel safe and comfortable throughout the treatment (which is important when you are getting injectables). We discussed my problem areas and the overall look I wanted to achieve and I am really happy with the results. I feel like what I asked for was achieved."
Bethany, London, June 2016
"Really professional and friendly. I felt completely at ease and was very happy with the results. Have recommended to friends and will definitely be going back."
SM, London, 2016
"Amazing experience as always!"
Anonymous, London, 2018
"Great and natural looking results. very happy, nothing worse than duck lips! my lips look fuller but natural, perfect result."
Katharina, London, 2018
As Seen In