THE NEW SKINCARE RANGE FROM THE DR. TATIANA CLINIC
GENERATE SKIN is an innovative skincare range developed by Dr Tatiana, an international skincare expert, and founder of the renowned Dr Tatiana Clinic, London. She developed the range to include only high quality and evidence-based ingredients, purposely selected to provide accelerated and transformative results.
Available in the clinic
"I wanted to develop a range of products with formulas that produce rapid and noticeable improvements in skin health. Through considerable research and sourcing premium and innovative ingredients, I have developed a powerful, evidence-based, skincare range that promotes rapid regeneration of the skin resulting in significant improvement in skin texture, uniformity and ageing."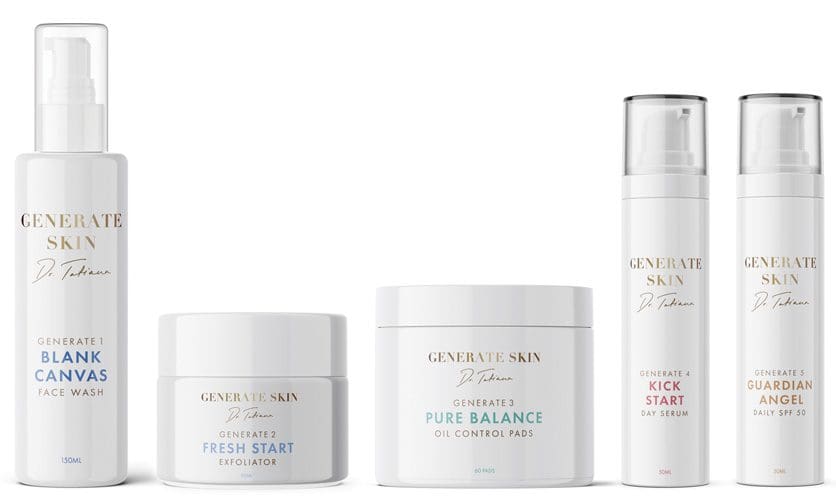 BLANK CANVAS FACE WASH
BLANK CANVAS is a daily exfoliating gel cleanser that utilises natural ingredients to deeply cleanse the skin whilst leaving it feeling comfortable, hydrated and balanced – creating a clean canvas for the next steps of your skin routine.
FRESH START EXFOLIATOR
FRESH START is a powerful combination of natural acid exfoliants and volcanic particles for a profound resurfacing result and evident improvement in pores, rough texture and congestion.
PURE BALANCE OIL CONTROL PADS
PURE BALANCE combines expertly blended natural acids to remove and reduce excess sebum production in the skin, reducing inflammation and helping prevent acne breakouts.
KICK START DAY SERUM
KICK START is an energising 20% vitamin C serum offering potent anti-pollutant protection, DNA repair and deep skin hydration.
GUARDIAN ANGEL DAILY SPF 50
GUARDIAN ANGEL carries a 5 star UVA rating and combines mineral and chemical sunscreens providing comprehensive sun protection and long-lasting moisture for the skin.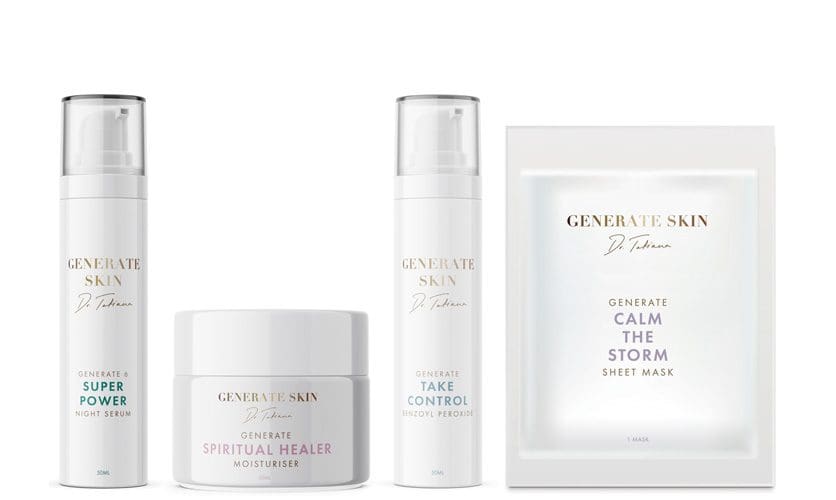 SUPER POWER NIGHT SERUM
SUPER POWER is packed full of potent vitamins, peptides, skin hydrators and natural extracts that promote optimal skin health, reduce redness and pigmentation and improve signs of skin damage such as wrinkles, loss of elasticity and dehydration.
SPIRITUAL HEALER MOISTURISER
SPIRITUAL HEALER is an intense moisturiser rich in Hyaluronic acid, vitamins, natural butters, anti- pollutants and DNA repair factors. It leaves the skin feeling soothed, supple and supported.
TAKE CONTROL BENZOYL PEROXIDE
TAKE CONTROL is an expertly formulated antimicrobial treatment that rapidly relieves inflamed skin, helps prevent against skin infections whilst also shrinking pores and reducing oil production.
CALM THE STORM SHEET MASK
CALM THE STORM is a hydrating, soothing and rejuvenating face mask that preserves healthy skin cellular function and promotes natural skin vitality.